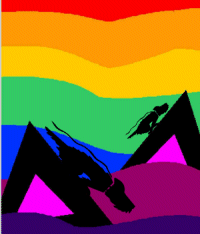 'Out in the Open' evolved almost by accident. We, (like a lot of farms in Cornwall), set up a campsite for the solar eclipse in 1999 & after this, we decided to remain open as a gay campsite. Back then, it was difficult & sometimes uncomfortable, to be yourself in public & for some people, it still is. However, things have moved on & times have changed. We do these days, actively welcome all campers, regardless of sexuality.

This was never intended to be your average commercial campsite. It is managed entirely by just the two of us. We don't cram as many people in as possible & although we have acres of space, we deliberately limit numbers in order to maintain a friendly, quiet & respectful community atmosphere. Out in the Open offers the chance to escape a busy lifestyle, relax & slow down the pace. There are stunning views, great facilities & you can take as much space as you need. But, if you're looking for late nights, club houses, games machines, widescreen TVs, cruising, or partying, then its not the site for you!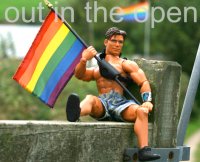 We are situated just 15 minutes walk from the village of Porkellis, between the towns of Falmouth & Helston in Cornwall. The farm is at the end of a track; away from roads & is both peaceful & private. The campsite has uninterrupted moorland views by day & a blanket of stars in the sky at night. We are in a central position for easy access to both the north & south coast beaches & major tourist attractions. Please be aware that, due to a narrow access lane, we can only cater for tents & small campervans - anything larger than 7' wide will not get down the track!
Address: Lower Dacum Farm, Pokellis, Helson, Cornwall, TR13 0PD, England Map
Tel: 01326 340627, Fax: , Email: camping@outintheopen.co.uk
Please click here for further information
Hits: [1290]