A three star, gay-owned Georgian house in the heart of Edinburgh, established in 1995.

Now that you've chosen the Georgian elegance of Edinburgh for your visit, why not add to your enjoyment by staying with us in our splendid Georgian house. We're now in our seventeenth year of welcoming guests and have had nothing but compliments from them. Many return to us on a regular basis and confidently recommend us to their friends. We must be good: top establishments and even other guest houses send us business!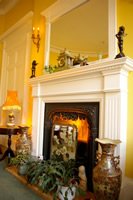 Relax in comfortable, smoke-free, surroundings during your stay. Enjoy a cooked breakfast in our elegant, spacious, dining room, where you'll be well looked after.
We have 6 well appointed rooms - single, double, twin, with some rooms able to accommodate three or four sharing. All rooms are en-suite with shower and toilet as well as TV and tea and coffee making facilities (a kettle!). Rooms are serviced and fresh towels supplied every day. The house is fully centrally heated and you can control the temperature to suit your own requirements. There is always an ample supply of hot water. Garlands is a realistic 15 minute walk to the centre of town and there is an excellent and frequent bus service from the end of the road. We are only a ten minute stagger home from the bars and cafes. We are happy to offer advice on where to eat (we only recommend the places we eat in ourselves) and how to get around the city.
We look forward to welcoming you to share our home for a while.
Check availability and special offers with

Address: 45 Pilrig Street, Edinburgh, Lothian, EH6 5AL, Scotland Map
Tel: +44 131 554 4205, Fax: , Email: info@garlandsguesthouse.co.uk
Please click here for further information
Hits: [1446]